We would like to introduce you to our "new place" for the upcoming Suncamp in 2015 from July 26th until August 2nd!
After many years at the "Unterkagererhof" we decided to change the scenery and found a beautiful place in the Austrian Waldviertel, surrounded by a small river, earlier an old wheat-mill, today an open space for new ideas, festivals and creativity – the "Seedcamp" in Kautzen.
It will be our first time there – as it will be for all of us – so please be patient with our organisational staff. Let´s work all together and treat the place carefully and with respect. There will be new rules, new sleeping and eating conditions (of course camping will be still available!) as the place is completely different from the one of the last years.
NEW LOCATION: Dobersbergerstraße 23, 3851 Kautzen, Austria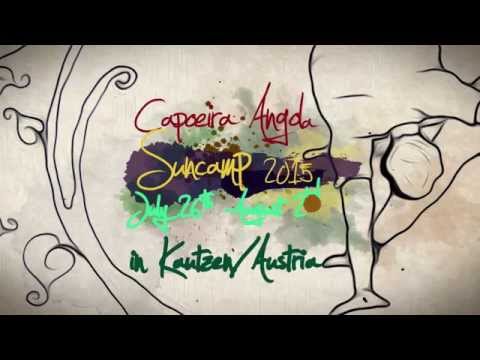 ▶

What hasn´t changed is that we will still spend a wonderful week full of afro-brazilian culture in the middle of our wonderful nature, far away from any big city!
Beside intensive Capoeira Angola trainings and rodas rich in energy, there will also take place other afro-brazilian cultural manifestations such as Tambor de Crioula, Samba de Roda and Afrodance with Murah Soares from Berlin/São Paulo. Your stomachs will sure be pleased with delicious food (both vegetarian and non-vegetarian) and at night we will enjoy moving our feet to nice music!
Let´s celebrate our international event all together, an event in the middle of nature which is already well-known in the European Capoeira Community. We are looking forward to see you on the SUNCAMP 2015! Everybody is welcome!
Our guests this year are:
MESTRE ABELHA (Escola de Capoeira Angola Cortiço do Abelha)
MESTRE PERNA (GCAIG Bremen Cazuá)
MURAH SOARES (Afrobrazilian Dance)
PROF. BOM BAIANO
and our own PROF. KENNETH from Vienna!
All information about SUNCAMP 2015 you will find inside the
suncamp2015_info.
Register NOW directly below:
IMPORTANT for registration: Please provide a functional email adress, otherwise the registration process can´t be completed. After pressing the "register"-button you should see a popup-field with a message to check your mailbox.
{Maybe necessary on some webbrowsers: When you change your registrations type (say from regular to reduced) you have to
select the new registrations type, then press the "change"-button beside the option-field,
afterwards press the "continue"-button.}
REGISTRATION 2015 DISABLED
After your registration you should receive an email, may also have a look into your spam-folder.
(If registered, and you got NO email within a day please mail your booking data to capoeiraangolaviena+sc2015@gmail.com)
MORE
Until then we wish you all a wonderful time, stay tuned and we are looking forward to see you at the end of July!
Your GCAIG from the "Centro Cultural Choupana" Vienna